A report recently released by iGaming software developer Softswiss shows a huge 19% rise in crypto bets in the first quarter of 2023.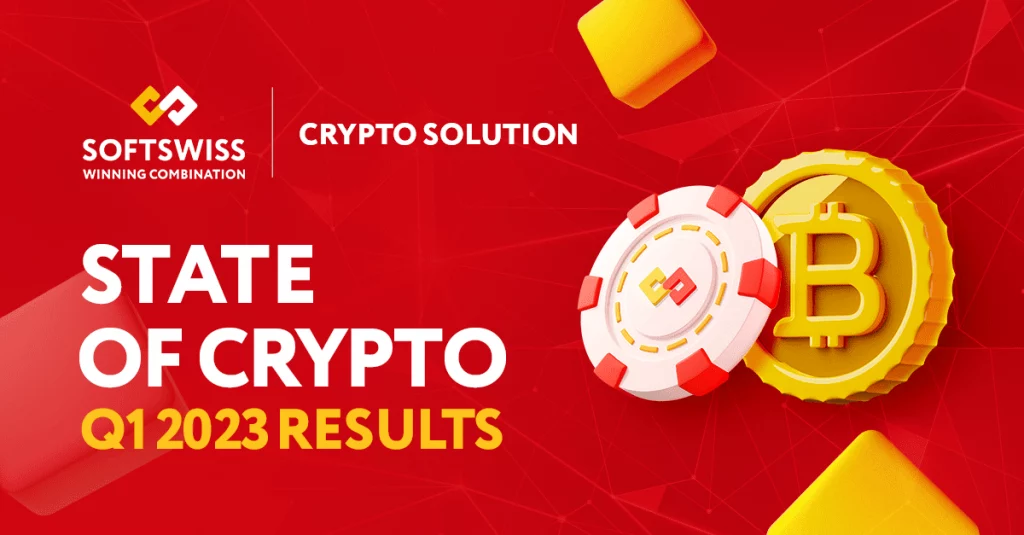 The report, which analyzes the crypto gaming market, based its findings on data from over 700 brands powered by the Softswiss Game Aggregator, as well as the Softswiss Casino Platform.
Softswiss co-CEO, Andrey Starovoitov, noted that the increase in value of cryptocurrencies as a whole has led to growth in the iGaming market and an increase in bets made by crypto players.
Starovoitov also expects players to continue using crypto throughout 2023. He sees potential for more growth, if players are effectively retained and the crypto market experiences reduced volatility.
Crypto Bets Join Casino Gaming in iGaming Industry Growth
Q1 2023 showed positive growth in the iGaming market. The total bets indicator increased by 44.66% compared to the same quarter the previous year. And by 2.24 percent compared to the preceding quarter. These figures reflect the increasing popularity of iGaming in general.
The share of bets in cryptocurrency accounted for 30% in this year's Q1, showing more significant growth at 19% compared to the previous quarter's 9%.
Bitcoin (BTC), Ethereum (ETH) and Litecoin (LTC) maintained their positions as the three most used digital coins in Q1 2023. However, their market shares underwent some changes.
Bitcoin's share increased by 1.9 percentage points at the expense of smaller digital currencies, while Ethereum's share remained the same.
Looking at a longer time frame, the shares of digital coins experienced more notable changes. From Q1 2022, BTC increased by 3.72 percentage points, whereas ETH lost 5.01 percentage points. The share of LTC, the third leading digital coin, decreased by 1.36 percentage points.
The reported market shares for Q1 2023 has BTC holding the top spot at 76.5%. Bitcoin is followed by ETH at 8.4 percent, with LTC in third place at 5.1 percent.
Tether (USDT) secured a 5.1% share for the first time, while Dogecoin (DOGE) witnessed a one percentage point decrease compared to the previous quarter. DOGE ended Q1 2023 with a 2.5% share.
Other digital coins that experienced an increase in their share of Total Bets included Ripple (XRP), Tron (TRX) and Cardano (ADA).
The Average Crypto Bettor Summed Up
Looking further into Softswiss' insights, the company outlined the average crypto player portrait based on available player profile data. They revelaed that approximately 65% of crypto bettors are male, and that 44.9% of players are between 31-40 years old.
The report revealed that more than half of the crypto gross gaming revenue in Q1 was generated via mobile devices.
According to experts at Softswiss, there is a high interest in starting crypto projects. This is despite the volatility and unpredictability of the crypto market. Recent statistics suggest that 2023 is showing positive development for projects related to digital coins.
CCO at Softswiss, Max Trafimovich, said there had been a consistent rise in demand for crypto-ready solutions in recent years.
"It's undeniable that some crypto iGaming operators have drawn much attention and accolades on a global level. Besides crypto, such operators also happen to be at the forefront of various other innovations, those going beyond the payments aspect," Trafimovich said.