Fan tokens are digital assets, or cryptocurrencies, launched by sports teams and leagues worldwide. The idea behind fan tokens is to give supporters a chance to claim exclusive rewards and even have a vote on some decisions made by their favorite team.
This article will tell you all about the basics of fan tokens and the pros and cons. We'll also introduce fan tokens from different sports to show how many teams and event organizers have hopped on the fan token train.
What Are Fan Tokens?
Many sports fans own their favorite team's jersey or even a few of them, have season tickets, and constantly attend events organized by the official fan club. But what if you could take it up a notch and have a say in some of the decisions made by the team?
That's where fan tokens step in. Fan tokens are cryptocurrencies launched by the teams themselves, giving the holders of these coins various perks. The long-term goal of fan tokens is to increase the communication between the team and the fans, but while doing so, the fans enjoy many other benefits.
The holders of fan tokens might be invited to join special events and offered the chance to buy special merchandise only available to fan token holders. Sometimes teams can ask the holders for an opinion on some team-related things, so as a fan token owner, you might get to make some substantial changes.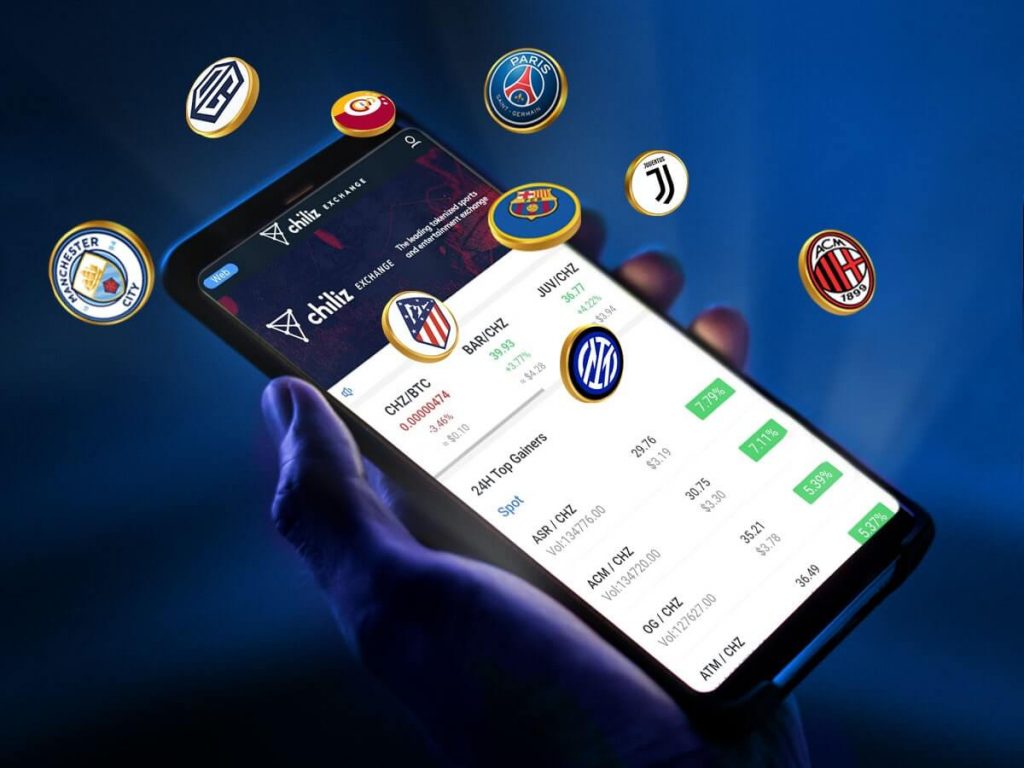 How To Buy Fan Tokens?
The most common blockchain for fan tokens is Chiliz, established in 2017 by Alexandre Dreyfus. When a team decides to launch its fan token, an initial FTO (fan token offering) is organized. The starting price and market cap are published beforehand by Chiliz.
Fan tokens are not considered a currency per se, as you cannot use them to buy things – at least for the time being. However, you can exchange fan tokens with other owners on some crypto exchanges.
You cannot buy some fan tokens directly with fiat currencies, so you need first to buy the Chiliz network's native CHZ tokens and then exchange them for the selected fan tokens.
Pros and cons of fan tokens
While the prospects of fan tokens may sound good, some downsides can also be found. For example, there has been some controversy in England, where West Ham United had to end their bid to launch a fan token before a single coin was issued.
Here are some of the pros and cons of fan tokens:
Pros
More engagement with the team
Voting rights
Access to special merchandise
Cons
You need to pay to get heard
Voting on irrelevant things
The main argument against fan tokens has been that the fans need to pay for something that should by default be free: having their voices heard by their team in exchange for support. It has also been brought up that while voting is a possibility, the polls are often about petty things, like a goal celebration song or the lineup of an exhibition match.
On the positive side, owning some fan tokens could be considered equivalent to holding a season ticket or a membership in a fan club – these are often not free. The difference is that with the fan tokens, everyone can choose their financial engagement; this way, more people can become active members of the fan base.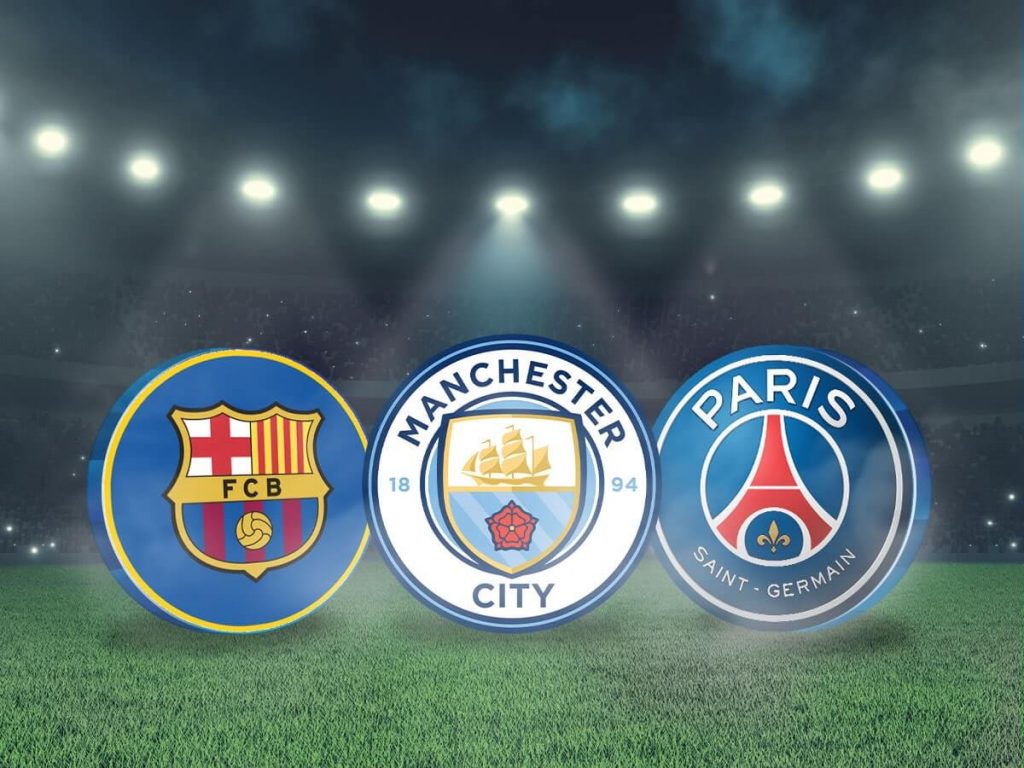 Football Teams Offering Fan Tokens
Most of the fan tokens currently on offer are those of football clubs. Dozens of teams from all over the world have launched their fan tokens, and these are no small-time local teams either – we are talking about some of the biggest football clubs in the world.
FC Barcelona
FC Barcelona is one of the most iconic European sports teams in history and one of the first major teams to launch their fan token. Barcelona's fan tokens can be used for staking to receive NFT rewards, to purchase VIP experiences and tickets, and rare collectibles.
The FTO took place in June 2020, and the token reached its all-time high so far in April 2021, reaching over €75 per token. There are currently about 4 million BAR tokens in circulation, while the maximum is limited to 40 million.
Paris Saint-Germain
Paris Saint-Germain, PSG for short, is often considered one of the best football teams in the world, with a fan base reaching way beyond Paris and France. The PSG token holders are offered VIP passes to the club's matches, and they also get to enjoy special NFTs and digital badges.
During the initial FTO, fans purchased more than 1.2 million PSG tokens. The number of tokens is capped at 20 million, with 2.5 million put into circulation annually. The all-time high we've seen so far was in August 2021, when the token reached over €58.
Manchester City
After seeing the success of PSG's fan token, Manchester City decided to launch a token of their own. Similar to other football clubs with their tokens, holders of CITY tokens have access to VIP tickets and special merchandise, and can vote in different polls.
The first CITY tokens were sold in March 2021. So far, the highest price for the token has been a bit over €35 in August 2021. The number of CITY tokens is limited to 20 million, with roughly 3,5 million currently in circulation.
Motorsports Fan Tokens
While the focus has mainly been on football teams, motorsports have also started to show interest in fan tokens. There are not many motorsports teams or events to launch their tokens yet, but the Alpine F1 Team did so in February 2022.
The token was launched on Binance Launchpad, marking the first time an F1 team has joined the Binance platform. The holders can stake their tokens to earn NFTs and other rewards, like VIP access to the pit before F1 races.
It remains to be seen whether other F1 teams will launch their tokens following the success of Alpine. We could also see the trend expanding to other motorsports, such as rally and Moto GP.
Fan Tokens in Esports
The growing popularity of esports means more and more fans want to back their favorite teams, so it should be no surprise that several teams have launched fan tokens. These teams are not focused only on one game, so for example, Counter-Strike: Global Offensive and League of Legends teams are both represented.
One of the most prominent CS: GO teams to launch their token is the Ukrainian Natus Vincere. The team's NAVI token was launched in December 2020, and it has seen an all-time high of over €16 in April 2021.
The Spanish Team Heretic, mostly known for their efforts in the League of Legends, also launched a fan token in August 2020. This token has seen an even higher all-time high than the NAVI token, reaching over €27 in March 2021.
With many more esports teams already launching their tokens, it would be a surprise if others didn't follow suit soon. Since many esports fans are recreational players and well accustomed to the digital world, supporting your favorite team by holding fan tokens only makes sense.
Davis Cup Fan Tokens
Davis Cup is arguably one of the most famous men's tennis events and one of the oldest, first played in 1900. Davis Cup also launched a fan token right before the final tournament in 2021.
The holders of the Davis Cup tokens have had the chance to vote on the designs of merchandise to be sold, and for the 2022 edition, fans get to vote on the messages shown in the locker rooms.
So far, the DAVIS token reached an all-time high of over €15 in December 2021. If the token proves to be a real success over the next few years, we could also see new tennis fan tokens launched.
MMA Fan Tokens
The fans of mixed martial arts have also got a couple of alternatives on offer regarding fan tokens. The Professional Fighters League and Ultimate Fighting Championship launched their tokens in 2020 and 2021, respectively.
Both of these tokens enable fans to vote for the fighters in some matches and have a say on other aspects of the PFL and UFC events. Token holders could also participate in different events, like meet & greet with the fighters.
PFL token reached its all-time high so far in April 2021, hitting over €8. The UFC token's success in this regard is not much worse, as the higher price we've seen so far was almost €7 in September 2021.