Asian handicap bets are a good way of getting familiar with handicap betting in general. You can enjoy better odds than regular 1X2 bets, but bigger risks are involved. Read on to learn more about Asian handicaps and get more out of your betting experience.
How Asian Handicap Betting Works
As the name suggests, this bet type was originally used in many Asian countries. In the beginning, these markets were mainly offered in football, but have since spread to other sports as well. The idea is to give the other team a virtual advantage that the opposing team then has to overcome.
Let's take an example. Let's say you are betting on a Premier League match between Everton and Wolverhampton. Here are some of the Asian handicaps you'd commonly find and the best results depending on the match's outcome.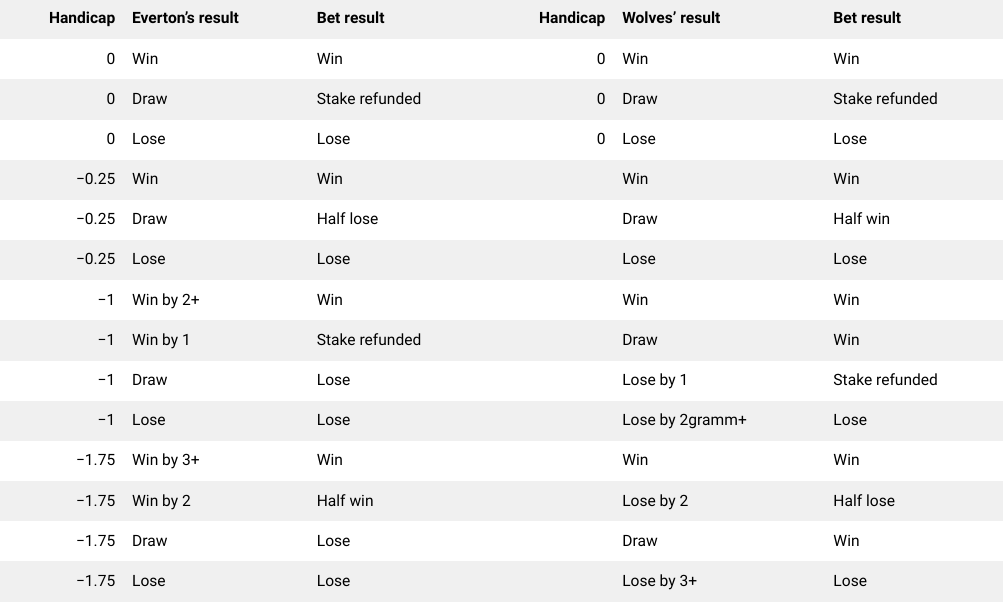 Difference Between Regular and Asian Handicaps
There is a small but significant difference between regular handicaps and Asian handicaps in betting. Regular handicap bets are always simply lost or won, but Asian handicaps can end in a half-win.
Regular handicaps are only offered in intervals of 0.5. Taking the EPL example above, the regular handicaps could be Everton -0.5 and -1.5. This means Everton would need to win by 1 or 2 goals for you to win the bet.
Common Sports With Asian Handicaps
So why doesn't every sport offer Asian handicaps? Asian handicaps are popular in sports where a draw is a relatively likely result. Asian handicap live betting is also a possibility in soccer and ice hockey.
There are, of course, other sports where matches can end in a tie, like basketball and handball. But in these sports, the point difference is usually bigger, which makes regular handicaps and point spreads a better alternative.
Asian Handicap Soccer Betting
Asian handicap bets are most common in soccer. The score is often tied when the referee blows the final whistle, and one way punters can avoid the disappointment of a stalemate is Asian handicap betting. Betting on the -0.25 or +0.25 lines can still bring in some cash, even if the result is a boring 0-0 or any other draw.
Asian Handicap Ice Hockey Betting
A match cannot end in a tie in most ice hockey leagues and tournaments. The NHL gave up ties in the 2005 – 2006 season, and the rest of the world has followed its example. While there might be more exceptions to this rule, the European Champions Hockey League is probably the most notable league to still have ties in the group stage.
However, the regulation time can still result in a tie. What follows is overtime, usually five minutes. If the score is still tied when overtime is finished, a penalty shootout decides the winner.
What this means for Asian handicap betting is that there can be two types of Asian handicaps offered: one only taking into account the regulation time, and another where the bet is resolved based on the final outcome
Boost Your Odds With Asian Handicaps
Asian handicaps are a great way to enhance your odds, but you should be wary of the risks involved. As usual, bigger potential rewards also mean bigger risks of losing – even if you only lose half of your stake.
As the risks are not as big with Asian handicaps as they are with regular handicaps, this bet type is great if you are just getting started with handicap betting. Start off slowly with some less risky bets and once you gain more confidence, you can try your luck with the more demanding handicaps.