With arbitrage betting, you can join the small percentage of punters who profit consistently. In many ways, it is a 'dream' strategy because it involves making a guaranteed profit every time. When you get it right, it is impossible to lose!
It may seem too good to be true, but arbitrage in sports betting is real, and experts continue to take advantage of bookie errors. The process requires patience, potentially software, and a lot of betting accounts, but you can become the latest individual to prove that bookmakers are not infallible.
This article looks into sports betting arbitrages and outlines how to find and calculate these opportunities. It also delves into the problems faced by prospective "arbers" and provides advice on how to stay beneath the crypto sports betting website's radar for as long as possible.
What Is Arbitrage Betting?
In trading, arbitraging refers to exploiting tiny price differences between similar or identical assets in 2+ markets. Also known as "sure betting," arbitrage in sports betting is a method of placing wagers with two or more bookmakers on the same sporting event to guarantee a profit.
Arbitrage betting opportunities occur when bookmakers take opposing views on the likely outcome of a sporting event. If at least two firms disagree by a large enough variance, you may have the chance to guarantee a profit no matter the outcome.
The highly competitive nature of the bookmaking industry means that crypto sports betting sites are keen to attract new punters and retain existing customers. Bookies may try to outdo one another, and occasionally, this jostling causes at least one firm to set the odds on an event too high.
It doesn't mean that a decided underdog with one crypto site is the favorite with another. Indeed, the sites may broadly agree on the favorite; it is a question of how strong the favored team is that's up for debate.
Live betting arbitrage opportunities can also occur if a bookie is slow to update odds. This is more likely to happen in high-scoring sports such as basketball and tennis, where price changes happen frequently.
How to Calculate Arbitrage Betting?
In general, arbitrage sports betting opportunities aren't available for long. The offending bookmaker soon realizes the need to change its price; before you know it, the chance is gone. Furthermore, earning a return on investment (ROI) of over 10% is rare on any betting arbitrage. Indeed, at first, you may find that 3-5% ROI arbs are the likeliest outcomes.
Therefore, you must be quick off the mark to find sports betting arbitrages and take advantage of them. It is helpful to use an arbitrage calculator because time is of the essence. However, it is also useful to know the mathematics behind arbing.
A simple method of quickly determining whether you have an arbing opportunity is to add the implied probabilities of the combined odds for a single event. If the total is under 100, you can guarantee a profit.
For example, in tennis, if player A is available at odds of 2.3 to win on one site and player B's odds are 1.9 on another site, you can do the following:
100 / 2.3 = 43.48
100 / 1.9 = 52.63
43.48 + 52.63 = 96.11
In this instance, an arbitrage bet is available with an edge of 3.89%. This also equates to your ROI when you stake correctly.
Keep reading to see three arbitrage betting options, complete with screenshots.
Example 1
We begin with a small yet simple arbitrage opportunity. It is a darts match between Adam Gawlas and Richie Burnett in the PDC World Championship. You can bet on Gawlas to win at odds of 6/5 (2.20) on one bookmaker's site and 10/11 (1.91) on a different site. There are only two possible outcomes, and the odds are in your favor as you're about to see.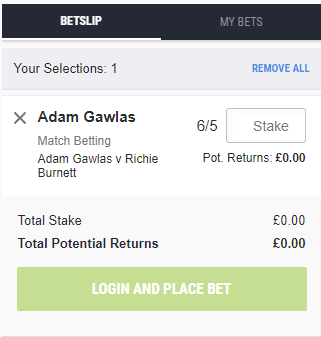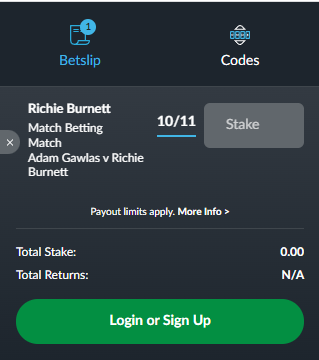 100 / 2.2 = 45.45
100 / 1.91 = 52.37
45.45 + 52.37 = 97.82
In this instance, you enjoy an edge of 2.18% (100 – 97.82). You can make the most out of this situation with the right staking percentages. We strongly recommend using an arbing calculator to ensure you quickly determine the right amount to bet on each outcome. For best results, you want to stake in a manner that ensures the same payout regardless of how the event finishes.
It is essential to act fast because if the odds change, your arbitrage is gone.
In the above example, you should do the following:
Bet $100 on Gawlas at 2.2 = $220 possible return
Bet $115.18 on Burnett at 1.91 = $220 possible return
Overall, you wager $215.18 and guarantee a profit of $4.82.
Example 2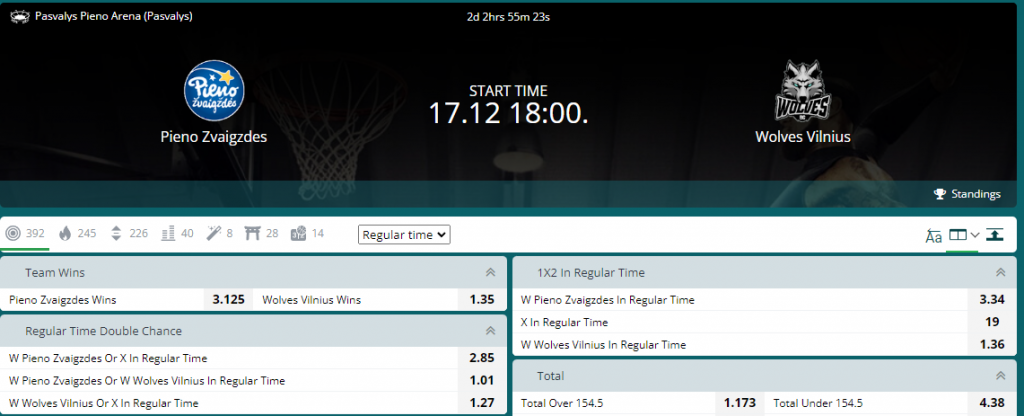 In this Lithuanian basketball game, you can bet on Pieno to win with one bookie at odds of 3.125. Yes, the odds of winning in regular time are 3.34, but if the game ends in a tie, you could lose, depending on both sites' terms and conditions.
On another site, the BC Wolves are available at odds of 1.55. As a result, you have the following edge:
100 / 3.125 = 32
100 / 1.55 = 64.52
32 + 64.52 = 96.52
With an edge of 3.48%, here is how to stake for maximum benefit:
Bet $100 on Pieno at 3.125 for a possible return of $312.5
Bet $201.61 on BC Wolves at 1.55 for a possible return of $312.50
You wager a total of $301.61 for a guaranteed profit of $10.89.
Example 3


Our final example also involves a basketball game, this time a women's Eurocup match. Here, you can bet on Nesibe at odds of 8/11 (1.727 in decimal form) or on Elizur at odds of 2.768. You'll notice that Elizur's price is just 2.00 on the other betting site.
Let's calculate our edge here:
100 / 1.727 = 57.90
100 / 2.768 = 36.13
57.90 + 36.13 = 94.03
By arbitrage betting standards, the edge of 5.97% is significant. Here is how to stake:
Bet $100 on Nesibe at odds of 1.727 for a possible return of $172.70
Bet $62.39 on Elizur at odds of 2.768 for a possible return of $172.70
Overall, you bet a total of $162.39 for a guaranteed profit of $10.31.
How to Find Arbitrage Bets?
Certain websites provide daily arbitrage betting opportunities. Oddspedia is one of the best; its 'Sure Bets' section provides a detailed overview of arbing options. You can find out the sites to use and the potential ROI. However, you must act fast, as these prices usually don't last long! Indeed, researching arbitrage bets for this article proved frustrating, with several options unavailable within 2-3 minutes of reading the Oddspedia page!
Live arbing is possible too. However, you definitely need software to have any chance of catching the odds in time.
As an alternative to arbing, there are ways to guarantee 'free' or 'low-risk' bets in certain circumstances. One example is when a bookmaker offers 'specials' with pricing far more generous than average. If you have an account with that firm, you can accept the special price and bet on the opposite outcome with another bookie for a guaranteed profit.
Problems with Arbitrage Betting
The possibility of earning 'free' money is certainly alluring. However, as these downsides show, arbitrage betting is not a perfect solution.
Low ROI & Lack of Opportunities
It is tough to find opportunities as you need lots of accounts and free time. Indeed, you realistically need at least 20 betting accounts to find ample arbing options.
In many cases, the betting arbitrage is only available for a few minutes. When you've identified an arb and go to your account, you'll often find that the price is gone.
Also, in most cases, you'll struggle to get an ROI of over 3%. You have to decide whether finding sports betting arbitrages is worth your time.
You'll Get Banned Eventually
Some people ask: "Is arbitrage betting legal?" The answer is yes, but bookmakers can restrict your account if they suspect you are doing it. Also, some firms now use tools to detect arbers.
It Can Backfire
As prices change rapidly, you can place the first leg successfully only to find that the odds of the second wager have changed. At this point, you can either gamble on the outcome or take a small loss.
You Need a Large Bankroll
Since the margins are slim, having a small or even medium-sized bankroll isn't worth your while. Suppose you find an average of three sports arbitrage bets daily with an average ROI of 3%.
If you risk $100 each time, your average profit is $3 if successful. Do this three times a day, and you'll earn $9! To earn $200 daily, you must uncover five arbitrage bets with a 4% edge and risk $1,000 each time.
How to Avoid Being Banned or Restricted
You can devote yourself to betting arbitrages, but there's a strong chance that many of these accounts will get restricted. Here are a few quick tips to reduce the likelihood of this happening and extend the lifetime of your accounts:
Always bet in whole numbers, not decimals. For instance, it looks very suspicious if you wager $114.75 instead of $115. Yes, you might lose a fraction of a percent by rounding up or down, but it is worth the small loss
Keep track of the sites you arb from; consider doing a 'mug' bet now and then to keep bookies off your scent. A mug bet is one where the odds are strongly in the bookmaker's favor. Parlays are a prime example
Deposit steadily rather than investing thousands of dollars at once, and keep your stakes fairly linear. This means not suddenly betting $1,000 when your normal bet is $70
Never withdraw the entirety of your winnings after a successful arb
Ensure your stakes remain well below the bookmaker's maximum limits
Resist the urge to take arbitrage betting opportunities with an ROI of over 10%. Such wagers could be classified as 'palpable errors,' meaning the bookie refunds them rather than settling in your favor
Don't place all your bets on obscure sporting events
Try to steer clear of unusual betting patterns, such as making wagers in the early hours of the morning
Use cryptocurrency for fast deposits and withdrawals. Success at arbitrage betting depends on quickly transferring funds
Never place two legs of a three-bet event with the same bookmaker
With Arbitrage Betting, Slow and Steady Can Win the Race
On the face of it, arbitrage betting offers a wonderful opportunity to make a guaranteed profit with every bet. It involves taking advantage of significant pricing differentials between a wide range of bookmakers. With the right tools, a large bankroll, and many accounts, you can make sports betting arbitrage wagers work for you.
However, the process takes a huge amount of effort, which amounts to an ROI of a few percent at best. You're also at constant risk of having your accounts restricted or closed. Therefore, don't look at arbitrage in sports betting as a chance to make an overnight fortune because that simply won't happen.